Current information
Events
20 November 2021 : Axes, Duo Alto, Aarau, Gong Festival.
24 November 2021: Stream, Mezzoforte Prize, SAT Montreal.
8 December 2021: Subspheres, Duo Eventuell, Saxfest Zürich.
2 April 2022: NOX#2 – workshop presentation, Opéra national de Lorraine.
June 2022: CUE – Creative Union Experimence, Collective composition for Divertimento Ensemble, Milan, with Giulia Lorusso & Giovanni Montiani.
Presentation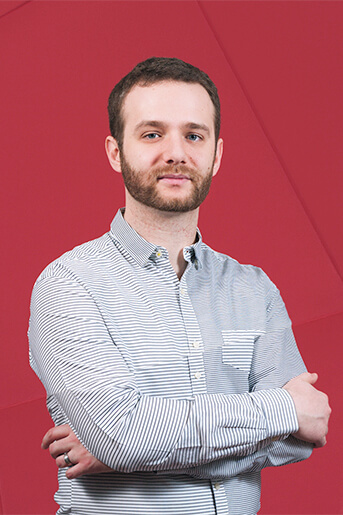 Photo: Stefanie Daumüller
Mathieu Corajod
Mathieu Corajod (CH/FR, 1989) is a composer and stage director of instrumental and vocal music, experimental music theater, electronic music and interdisciplinary projects. He runs the Compagnie Mixt Forma.
Sensitive and concise, sometimes expressive or ironic, his music creates a new world for each of his pieces. Mathieu Corajod regularly explores the opposition between the fusion and contrast of sounds. He claims the immediacy of his musical material while seeking to create surprise, maintaining a critical and reflective approach. His use of technology is as much in the service of sonic research as it is of staging. He works closely with performers in his open, interactive or performative works.
Author of works performed among others by the Orchestre de chambre de Berne, Ensemble Adapter, Ensemble Interface, Ensemble Makrokosmos or Soyuz21, Mathieu has also written and produced several projects of "théâtre musical" such as his show Scriptons or his performance for two dancers and electronics : Ça va bien avec comment tu vis
Mathieu Corajod studied composition from 2010 to 2015 under Xavier Dayer, Christian Henking, Cathy van Eck and Daniel Weissberg at the Haute école des arts de Berne – HKB, where he specialized in the experimental music theatre study program founded by Georges Aperghis – a field he will also deepen with Françoise Rivalland, Pierre Sublet, Jennifer Walshe, François Sarhan and Simon Steen-Andersen. He also studied musicology at the University of Bern (Master in Research on the Arts). In 2018, he joined the Ircam's composition and computer music course where he followed the teaching of Thierry de Mey and Simone Conforti thanks to a grant from the Fondation Nicati-de Luze. Since 2015 he has been active at the HKB in various positions (assistant, curator, researcher, guest professor).
Today he pursues his projects as a freelance artist through residencies and calls for projects (Cité des arts, ICST Zürich, Livorno Music Festival,…), commissions and his own productions with the interdisciplinary Compagnie Mixt Forma, which he founded in 2020.
Additionally, Mathieu Corajod is involved in various concepts of educational outreach for classical and contemporary music, collaborates as a music journalist or as a musicologist in the publication of articles and is involved in several networks and professional associations, including the Collège Contemporain.